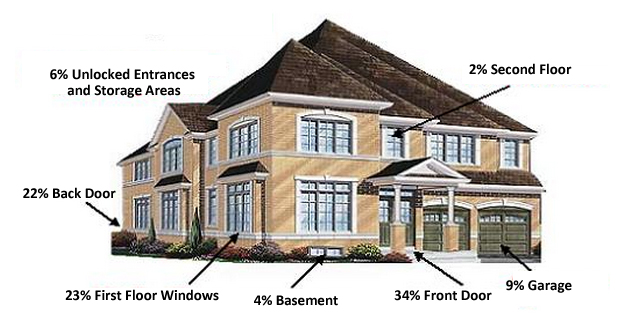 Home Alarm Systems
CUSTOMERS WITH A PRE-WIRED HOUSE AND UNFINISHED BASEMENT
If you have a pre-wired brand new house in a new sub-division with a completely unfinished basement and unfinished basement ceiling, you will get a hardwired motion sensor in the basement for Free (as included in pre-wired packages). The benefit of having a hardwired Motion Sensor on the Electrical Panel in the basement is to protect the Alarm Panel from the burglars who try to disable the alarm system by cutting the wires once they gain access to your basement. Many alarm companies do not pay attention to this important issue. Customers do not need a lot of hardwired contacts in the basement but they need a motion sensor in the basement. Please note, in a wireless system since the master control panel is on the main floor which will already be protected by the main floor motion sensor, so you will not need a motion in the basement to protect the alarm system.
Always Connected
Whether you live two or 2,000 kilometers from an ADT Customer Monitoring Center, you are no more than a phone call away from help ADT Helps Protect 20 Millions Customers around the world. They can help your home and family for just $1 a daywhen an emergency occurs. When an event occurs, an alarm is transmitted to ADT® 5 virtually Interconnected Monitoring Stations where trained professionals are available 24/7 to take action so that your emergency never gets a chance to escalate. ADT's state-of-the-art monitoring technologies watch, look, listen and alert to anything that might compromise the safety and security of your family and property.
ALL Door and Window sensors that trigger the alarm when a perimeter door or window is opened. These contacts are recommended for any slider, single hung, double hung windows. Casement windows do not need any types of contacts.


---

Safewatch® Pro 3000 wall-mounted digital LCD keypad with one touch buttons With backlight for easier use even at night, and easy-to-use interface, you can activate your alarm in different modes, or call for help using the emergency buttons.


---

Safewatch® Pro 3000 Digital Control Panel so that your alarm system can send the signal to the ADT monitoring station in the event of an emergency. Expendable up to 40 hardwired zone and 48 wireless zones. The central system of your alarm system, that serves as connection between your system and ADT. Having a separate panel with the heart of your system makes sure that even if the thief rips the keypad from the wall to disconnect it, the central panel can still communicate to ADT and the police that something is happening. Also, in our Instant-Stay and Instant-Away mode alarm goes off before any intruder gets into your house thus making it impossible for any burglar to damage our panel.


---

2-way Voice System: Our live 2-way voice system is another helpful Twoway Voice feature. In Safewatch® QuickConnect SecurityLink® System,once your alarm is triggered, an ADT Customer Monitoring Specialist will come on the speaker /microphone to check on your situation. In an emergency, the operator can stay on the line and talk to you while you wait for the authorities to arrive


---

Adjustable passive infrared Motion Sensor that senses movement in a 2500 square foot area on the Main Floor. Pet immune dual technology split zone motion detectors are safe to use for pets 80lbs and under. Additional Motion Sensor for the Basement


---

so ADT can respond to the fires, even when you're not home or while you were sleeping. According to Medical Science, smoke puts people in deeper sleep this is why monitored wireless smoke detectors are called life-safety devices with built-in Sensor that trips when the temperature reaches 57.22 ºC (135 ºF) and in wireless smoke detector, a built-in Sensor that trips when the temperature drops to 5 ºC (41 ºF).


---

Honeywell's Glass break Detector offers uncompromised performance and unmatched false alarm immunity. This Glass Break Sensor can be mounted on any wall or ceiling and will listen the sound of broken glass, vibration and shock within a 25' radius with an angle of 200° thus covering minimum 1250 square foot area and with no minimum range limitation.


---

Color Surveillance Camera: Watch and record what happens at your house when you are not there. Watch who is at the door before open the door.


---

72 hour Battery Backup. Even during a power outage your system and ADT are on guard. Make sure your system is always up and running, even when electricity is out. Our batteries have a life of 72 continuous hours and are recharged once electricity returns. Also, thanks to our extended warranty, any batteries needing replacing will be Free as long as you are monitored with ADT.


---

Transformer: 12 Volt transformer, powers the alarm panel and with the low voltage, you can enjoy the protection for the very low electricity bill.


---

CA238 Telco jack and wiring. Telco Jack seizes the phone line in the event of an alarm to send out the signal to ADT. Alarm signals have high priority over any calls, only our system offers this feature.


---

Cellular Backup Unit: For houses that do not have a home phone line, use VOIP technology or simply wish for an extra level of security. AlarmNet® Control Channel Cellular, when combined with your ADT monitored system, will send a wireless signal to ADT Central Monitoring Stations using satellite.


---

2 Wirelesss with 2 buttons so you can arm and disarm the system remotely from outside or your bedroom or press Police Panic button remotely in an emergency situation and arm the system in stay mode.


---

110-decibel siren in case of an alarm. Loud enough to scare the intruder off your premises and to alert your neighbors. External Sirens with Strobe lights are also available.


---

ADT yard Sign and Window decals: One of the best deterrents of theft, these signs help protect your home. You will get one for your front yard and decals for prominent windows to deter thieves from targeting your home.


---

24/7 monitoring by ADT's 8 Interconnected Emergency Response Centers.


---

Chime This stay-at-home mode can alert you to someone opening the door or window when your security system is not armed. it is the lowest level of security beyond completely deactivating your alarm.


---

AWAY mode protects your home while you are away. All zones such as Motion Sensors, Door Sensors, Window Sensors, Glass Break Sensors (if any) are activated, preventing anyone from entering.


---

STAY mode provides you security while you are home. Activated only perimeter security, so you can move Freely within your house.


---

Instant-STAY Same as the traditional STAY, but if someone opens an outer door or a window, the alarm will set off immediately, instead of waiting for the delay period, providing you with more security when everyone's home and you are not expecting visitors. This feature is extremely important and helpful in any home-invasion situation or in the night-time as the alarm goes off and notifies ADT and Police before any intruder enters in the house.


---

Instant-AWAY Same as the traditional AWAY, but it bypasses the entry/exit delay from the front door contact, making your home extremely secured when you are away for a longer period of time. The alarm will go off as soon as someone opens the front door more then an inch.


---

Night-Stay Lets you keep the motion sensor on in the basement as well as protected door & window contacts while other motion sensors are off when you are home.


---

ARM/DISARM mode so you can have few seconds entry/exit to arm/disarm the system.


---

A built-in speaker phone so you can make calls and receive calls. Available in our 2-way voice system.


---

Digital Services